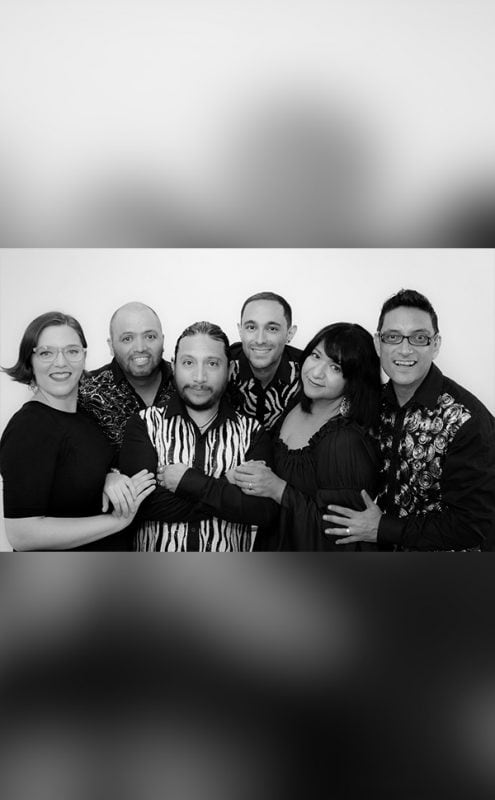 Founded in 1990 by its director José Galván, Voz en Punto is one the vocal groups with the greatest international presence in Mexican musical history with a unique performance style using only their voice. They have captured the attention of audiences from different countries such as USA, France, Switzerland, Germany, Russia, Romania, Austria, Finland, Spain, Greece, the Netherlands, Egypt, Ecuador, Colombia, China, Korea, and Japan, among others.
They have received several awards such as the Ambassador of the International Choral Federation (2014 and 2017), Fra Angelico Medal from the Cathedral of Mexico, Luminaria de Oro del Paseo de las Estrellas from Mexico City, 2nd prize from the International Festival of Vocal Music in Tampere, Mozart Medal from the Embassy of Austria, International Gaviota Award, 2nd prize from the International Choral Festival of the Netherlands, and their award-winning albums of the Folkloric and Viceregal Music in the Tribunas of Latin American and Caribbean CIM-UNESCO Music.
Voz en Punto performed in Mexico City at the Palacio de Bellas Artes and music festivals such as Festival Internacional Cervantino, Festival Internacional de Música in Morelia, Feria Internacional de las Artes de Sinaloa, Festival Internacional de Chihuahua, Festival Internacional de la Riviera Maya, Feria de San Marcos in Aguascalientes, among others.
They have performed internationally at the ACDA National Conference, International Festival of Arts in China, Muestra "México: Puerta de las Américas" in New York, Olympic Cultural Festival in Athens, Summer Festival of Wolfsburg Castle, Latin American Festival of Hamburg, International Festival of Choral Singing of Nancy, International Choral Festival of Montreux and the Instrument Museum in Moscow.
Voz en Punto was invited to perform with the Dresde Symphonic, the Mercury Baroque, Orquesta Sinfónica Nacional of Mexico and Camerata Salzburg, and collaborates in Mexican theatre and cinema productions.