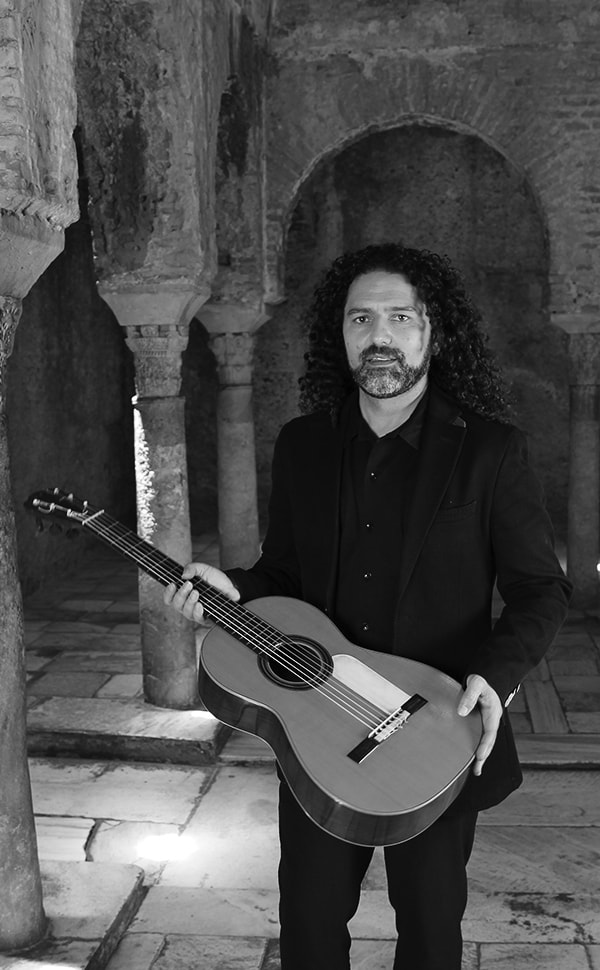 Born in Almeria in 1975, heart of the Spanish guitar, he is considered a prodigy of this instrument and performed for the King and Queen of Spain at age 12. In 2004 he was awarded the Insignia de Oro by the Junta de Andalucía (Spain) as the most relevant artistic personality of the year and was the winner of the 2011 Grammy for the album "Sacrificium".
He recorded and toured with Cecilia Bartoli and Il Giardino Armonico for DECCA. That same year he recorded Vivaldi's Four Seasons for Warner Music with Ara Malikian.
He received the award "Premio a la Difusión" from the Instituto Andaluz de la Juventud. In 2011 he launched "ARVUM", his first album as a guitar soloist, placed as top sales in classical music and achieving 5 stars from international critics. He is also the creator of the Certamen Internacional de Guitarra Clásica Julián Arcas.
Padilla is an advocate of ancient music, constantly collaborating with Joven Orquesta Barroca de Andalucía. In recent years he has been invited by the Orquesta de la Comunidad Valenciana and the Centro de Perfeccionamiento Plácido Domingo to play the continuous bass in the operas "Dido and Eneas" (H. Purcell), "L'incoronazzione di Dario" (A. Vivaldi), "Narciso" (D. Scarlatti) and "Silla" (G. F. Haendel) with Fabio Biondi. Additionally, he made the musical arrangements and direction for "Opérame" by well-known tenor José Manuel Zapata.
In 2018 he recorded a new album for IBS Classical with unpublished pieces of the XIX century performed with an original guitar from Antonio de Torres and he was awarded the "Melómano de Oro" in 2019. Presently he is a guitar soloist and a lut and tiorba performer, makes soundtracks and new projects such as "Barockeros", "Concierto para Zapata y Orquesta" and a viral video "From Bach to RadioHead".