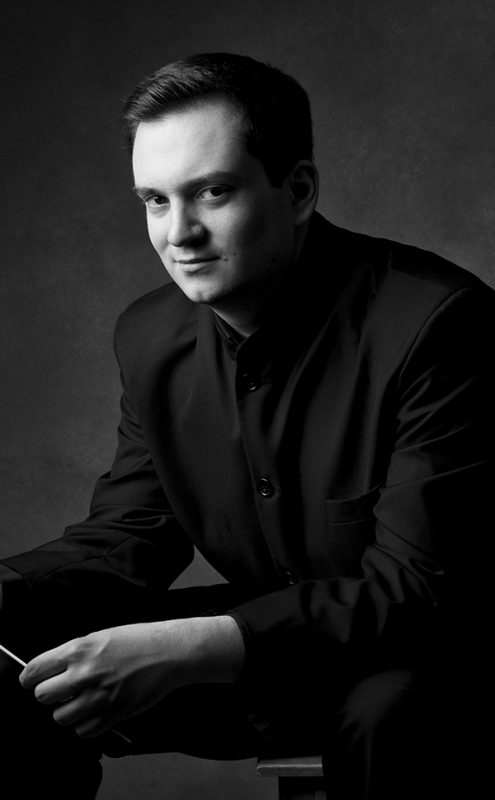 Born in 1990 in Guanajuato, Mexico, Lopez Reynoso studied violin, piano, singing, choir conducting and he graduated Summa Cum Laude in orchestra conducting under maestro Gonzalo Romeu. Lopez Reynoso possesses a musicianship and a solid temperament proved in numerous leading ensembles in his native Mexico. His collaborations extend to some of the most relevant artists such as Brigitte Fassbaender, Ildar Abdrazakov, Javier Camarena, Alessandro Corbelli, Celso Albelo, Franz Hawlata, Paolo Bordogna, Simón Orfila, Rebeca Olvera, among many others.
He has conducted the Oviedo Filarmonía, the Filarmonica Gioachino Rossini, the Navarra Symphony Orchestra, the Orchestra Sinfonica Rossini, the Staatsorchester Braunschweig, the Orquesta de la Comunidad de Madrid, the National Symphony Orchestra of Mexico, the Orchestra and Choir of Mexico's Bellas Artes Palace, the Mexico State Symphony Orchestra, the Philharmonic Orchestra of Mexico City, Symphony Orchestra of Mineria, Philharmonic Orchestra of National University OFUNAM and more.
López Reynoso made his opera debut in 2010 at the age of 20 with Le Nozze di Figaro, the first of a list of more than 30 operas: Aida, Carmen, La bohème, Le nozze di Figaro, Die Zauberflöte, Don Giovanni, L'elisir d'amore, Madama Butterfly, La cenerentola, Carmen, La Traviata, Il barbiere di Siviglia, Rigoletto, Werther, Don Carlo, Hänsel und Gretel and the debut in Mexico of Rossini's Le comte Ory, Il viaggio a Reims and Donizetti's Viva la mamma.
He served as Assistant Conductor of Mexico's Bellas Artes Opera and of the Philharmonic Orchestra of National University OFUNAM. He was selected as the conductor for the 2014 Rossini Opera Festival Accademia, conducting Il viaggio a Reims as part of the festival program. He has conducted with great success in Mexico and the world. In 2017 he was named Interim Artistic Conductor of the Aguascalientes Symphony Orchestra and Erster Kapellmeister of the Staatstheater Braunschweig. He currently works as Associate Conductor of the Orquesta Filarmónica de la UNAM and as Principal Guest Conductor of the Oviedo Filarmonía.